Note: I have two versions of

Kostohryz - Rydel, Looking Back 400 Years.

This is the pictorial version that is very user friendly. A companion web book version that is less visually oriented, presents large quantities of this family's data covering 15 generations. It can be downloaded and viewed in PDF format at: http://kostohryz.hypermart.net/kostohryzrydel/book.pdf It takes about 45 seconds to download. If you have Family Tree Maker or some other similar GEDCOM processing software, I could email you a GEDCOM file.


Vernon Kostohryz







click picture to enlarge

Czech Republic

Left: Map Pinpointing Homelands

of my Czech Ancestors

Right: Hodslavice, Moravia



click picture to enlarge
A Famous Old World Relative: 1st cousin 4 times removed (related through Rydel line).




click image to enlarge

Frantisek Palacky (1798-1876)

Historian and Leader of the Czech National Revival
Known in the Czech Republic as Father of the Modern Czech Nation
See his statue in Hodslavice

We share a kinship through Mathes Palacky (1657) who was my 7th great grandfather and

Frantisek Palacky's 2nd great grandfather. The parents of my grandmother, Rosina Barton Rydel(1854), both are descendants from the Mathes Palacky line. Rosina Barton's husband who is my grandfather Ondrej Rydel (1847) is also related to the mother of Frantisek Palacky through his own mother, both being of the Krizan lineage. Josephus Krizan (1736) was my 4th great grandfather and Frantisek Palacky's grandfather. Hodslavice was a small village and distant relatives did intermarry. In Palacky's picture on the upper left, I do note some of the Rydel facial features of myself and my kin.

click image to enlarge

Click the image
to read more
Jan Andel who was born around 1625 was a vladyka of Ronovec at Mirovice. Vladyka translates roughly to the English word, duke. The surname, Andel translates to the English word, angel. Earliest records of the Andel family of Ronovec date back to the fourteenth century. This family of lower nobility had castles, estates, wealth, and power. On our trip to the Czech Republic
( https://members.tripod.com/~Kostohryz/czechtrip/trip.html) we visited the ruins of one of the castles. At the ruins were two plaques, one showing a bull and the other showing the outline of the same bull within the coat of arms for the Andel family. The actual coat of arms would bear the image of a black bull with golden horns and hooves on a blue shield. There is an absence of public records at the time of and prior to the birth of Jan Andel. His existence is only mentioned in the death record of a blacksmith son, Waczlaw Andel (born 1651), who probably inherited little more than the fame that his ancestors experienced three centuries prior.
Click the bull on the left to read more about the ancestors of this duke who was my ninth great-grandfather.

Andel of Ronovec
Coat of Arms
Close examination of the official records in the Czech Republic shows that our relatives had occupations varying from pauper to nobleman with all the in-betweens. Below is the discussion of two of my 5th great-grandparents coming down through the Kostohryz line that led and participated in a smal peasant rebellion during the dark days of Austrian repression during the 1700's.

Jiri (aka Jura Petru) Mikeska and Jacub Lomica were both my 5th great-grandparents. Both were among the leaders given severe sentence for leading a peasant uprising seeking to defend their rights over the mountains of their homelands. More detail can be found by clicking: An Account of Family Heroism
Only three branches of each of the Kostohryz and Rydel ancestral lines are indicated below. The companion web site mentioned earlier goes into more detail with more branches included.


My Kostohryz lineage from the Czech Republic (Janotas from Moravia---remainder from Bohemia):



1737 Franciscus Kostohryz
1785 Joannes NepomukKostohryz
1821 Josef Kostohryz
1849 Jan Kostohryz
1874 Jan Kostohryz
Abt.1625 Jan Andel (Jan Andel
was (?) a vladyka meaning duke.)
1651 Waczlaw Andel
Bef. 1685 Jan Andel
1710 Frantisek Andel
1737 Antonin Andel
1770 Weneslaus Andel
1802 Frantisek Serafinsky Andel
1826 Marya Andel
1849 Marie Kolar
1874 Jan Kostohryz

1671 Martin Janota
1700 Martin Janota
1723 Jan Janota
1760 Joannes Janota
1801 Johann Janota
1824 Tomas Janota
1879 Anna Janota




| | |
| --- | --- |
| 1874 Jan Kostohryz (immigrant)--son of Jan Kostohryz (1849) and Marie Kolar (immigrant) | 1879 Anna Janota (born in USA)--daughter of Tomas Janota (1827) Terezie Sisa (1845)(both immigrants) |

Jan Kostohryz and Anna Janota are the parents of my father. John Jerry Kostohryz (1899)
My Rydel lineage from the Czech Republic (mostly from region of Moravia):



Abt. 1625 Johann Riedel
Abt. 1645 Adam Riedel
1679 Wenceslaus Riedel
1718 Josephus Riedel
1756 Venceslaus Rydel
1783 Josef Reidel
1822 Andreas Rydel
1847 Ondrej Rydel
1642 Matous Barton
1684 Waczlaw Barthon
1716 Pawel Barthon
1740 Andreas Barthon
1775 Georgius Barton
1805 Josef Barton
1824 Josef Barton
1854 Rosina Barton
Abt..1595 Jura Palacky
Abt. 1615 Jan Palacky
1633 Jacob Palacky
1657 Mathes Palacky
1686 Martin Palacky
1720 Jura G. Palacky
1749 Martinus Palacky
1776 Josephus Palacky
1806 Andreas Palacky
1834 Anna Palacky
1854 Rosina Barton




| | |
| --- | --- |
| 1847 Ondrej A. Rydel (immigrant)--son of Andreas Rydel (1822) and Susanna Krizan (1823) | 1854 Rosina Barton (immigrant)--daughter of Josef Barton (1824) and Anna Palacky (1834) |

Ondrej A.Rydel and Rosina Barton are the parents of my mother, Adelle Rydel Kostohryz (1898)
The New World Descendants


Left: Marie Kolar Kostohryz and four of her sons.
I was told that my grandfather, Jan (1874-1961) is on the left. I remember his face looking very much like the brother standing next to him.
Right: Wesley Brethern Church, formerly a school (c.1866) at Wesley, near Brenham, Texas. My great grandfather, Tomas Janota (b.1824) and his child, Joe (1880), are buried on these grounds in unmarked graves.

click either picture to enlarge


My Kostohryz lineage continues in the United States of America follows:
Jan Kostohryz, 1874--1961, immigrated to USA around 1891, married Anna Janota , 1879--1965. She was the daughter of Thomas Janota and Terezia Siza. Terezia Sisa was the daughter of Frank and Libuse Mikeska Siza.
My Rydel lineage continues in the United States of America follows: Ondrej (Andrew) Rydel, 1847--1935, immigrated with wife to USA around 1880, married Rosie Barton Rydel,1854--1913(?) in Hodslavice, Moravia. Her father's name was Josef Barton. Brothers of Rosie were John Barton and Joe Barton. Her sisters were Anna Barton Barina and Marie Barton Janek. Andrew and Rosie had ten children. As a widower, Andrew returned to his country of birth and married the widow, Anna Rydl.



| | | | |
| --- | --- | --- | --- |
| click picture to enlarge | On left, my grandparents, Jan Kostohryz and wife Anna on their 50th wedding anniversary | Pictured from top left to right in the picture on the right are Andrew Jr., Victor, Emil, Andrew Rydel (father), Rose Barton Rydel (mother), Albin Charlie, Ernest, Malvina, and Regina. My mother, Adelle and her sisters Rose and Esther are not shown. | click picture to enlarge |



| | |
| --- | --- |
| Twelve Children of Jan Frantisek Kostohryz and Anna Janota Kostohryz follow: | Ten Children of Andrew Rydel, Sr. and Rose Barton Rydel follow: |


Infant Kostohryz--born dead
Rudolf Kostohryz--died at age 14
Olga Kostohryz-1903. She married R. T. Hurta and had one son, Leroy Hurta.
Libuse Kostohryz, 1904--married Emil Plasek and had three children, Margie, Helen Jo, and Emil Jr. (The information that Aunt Libby gleaned from a trip to Czechoslavkia was a big help in the initial stages of this research.)
Bohumil Kostohryz--died in fire as small child
Otto Kostohryz--died in fire as small child
Alice Kostohryz
Julia Kostohryz
Bessie Kostohryz, 1909--married Ralph Brown and had two sons, Doyle and Raymond.
Hynek Kostohryz --married Irene Dolezal and had three children, Jeanette, Ted and Debbie.
Georgia Kostohryz--married Dewitt Parrish and had two sons, Ronnie and Marvin
John Jerry Kostohryz (birth name was Jaroslav), 1899--1968. This was my father.--Married Adelle Rydel and had five children: Laura Jean, George, Robert Lee, Vernon, and Nell Ruth.

John Jerry Kostohryz' five descendants follow:

Victor Rydel who married Carie Barton--eight children: Lillian, Edwin, Johnny, Clara, Eugene, Teddy, Edith, and Ruth.
Emil Rydel who married Millie Kudelka--eight children: Sidonia, Adolf, Rudolf, Lydia, Wilma, Elsie, Emil, Jr., and Adelle.
Andrew Rydel, Jr. who married Mary Krizan--two children: Esther and Harry.
Albin Rydel who married Rosie Krizan--three children: Roland, Albin, and Joe.
Ernest Rydel who married Minnie Marak-- one child: Harry Lee
Malvina Rydel who married John Zapalac--two children: Paul and Marvin.
Regina Rydel who married Anton Nemecek--no children but she was like a second mother to me.
Esther Rydel who married Frank Hlavaty--no children
Rose Rydel who married John Cauthen--I do not believe she had children.
Adelle Rydel, 1898--1993. This was my mother.--Married John Jerry Kostohryz--five children: Laura Jean, George, Robert Lee, Vernon, and Nell Ruth.
AdelleRydel's five descendants follow:

My parents, shown below, were both a part of theFirst Generation of my Kostohryz lineage born in the United States of America (This statement is not completely correct since my grandmother Anna Janota was actually born in Texas shortly after her parents arrived as immigrants.)

John Jerry Kostohryz 1899--1968 married Adelle Rydel 1898--1993 . Both were born in Texas. They were married in 1922. We were five children.



click picture to enlarge
My Parents and Sister
John Kostohryz on left.
On right is Adelle Rydel Kostohryz and her daughter Nell Ruth Jung whose oral history research at age around fourteen contributed greatly to this record.

click picture to enlarge
Second (my own) Generation of my of Kostohryz lineage born in the United States of America follows:



Descendants of John Kostohryz and Adelle Rydel Kostohryz follow:
Laura Jean Kostohryz, 1929--married Robert Matkin and had two daughters: Linda and Robyn
George Kostohryz, 1931--married Joyce Smaistrla and had six children: Beverly, George Jr., David, Brenda, Carol, and Jean.
Robert Lee (Bobby) Kostohryz, 1933--did not marry
Nell Ruth Kostohryz, 1941--married David R. Lane having one child, Roger Jung. She divorced and married again to Lester Jung and raised six step-children: Jeffery, Sue, Steve, Greg, Pamela, and William (Bill).
Vernon R. Kostohryz, 1935-- (yours truly) married Maria Josefina Vergara and had two boys: James and John.



click picture to enlarge
LEFT: Left to Right--Laura Jean, George, Bobby, Vernon (me).

RIGHT: Top Left to Right: George, Vernon (me), and Bobby. Laura Jean holding Nell Ruth.


click picture to enlarge



| | |
| --- | --- |
| click picture to enlarge | Left to Right: Laura Jean, Bobby, Vernon. Nell Ruth, and George. |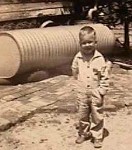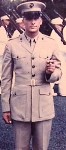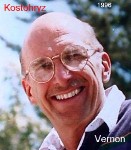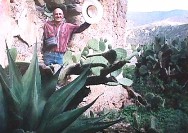 click on any picture to enlarge an image of Vernon


Vernon Ray Kostohryz, 15 March 1935 and Maria Josefina Vergara, 18 Sept.1947 were married and had two sons, James Alexander Kostohryz and John Eric Kostohryz. Maria Josefina was born in Cartagena, Colombia, the daughter of Hernando Vergara Tamara and Virginia Tamara de Vergara. Vernon and Maria Josefina were divorced after nine years of marriage. Vernon presently lives in Mexico.
The descendants of their marriage follow:

click picture to enlarge
My own descendants, a part of the Third Generation of my Kostohryz lineage follows:




click picture to enlarge
LEFT: Left to Right--James, Vernon (me the father), and John Kostohryz

RIGHT: John and James Kostohryz

1993 photographs


click picture to enlarge
According to a 1990 U.S. Census Bureau Report



| | |
| --- | --- |
| The surname Kostohryz ranked 62,720 in popularity. | The surname Rydel ranked 68,396 in popularity. |
---
According to the Kostohryz Family

Kolaches




Ranked the # 1
Most Missed Food



Christmas





Kolaches


Mexico


2012
---
Click here to view photographs of my Czech ancestral homes.
Click here for more background information on our Czech surnames, villages, and occupations.





click to enlarge
15 June 2002


A New Kostohryz

After a nine year courtship, your author of this document married Mercedes Millan of San Miguel de Allende, Mexico. It was a simple wedding--they don't know how to make kolaches here in San Miguel.
Note: Current List of my Kinship Surnames
For those seeking connections to their own ancestry, the following is a list of my ancestral and kinship surnames that are easily searchable from the companion web site mentioned at the beginning of this document.
Adam, Andel, Baletka, Barina, Barta, Barthon, Barton, Bartonova, Baumgart, Bayer, Becvarova, Beseda, Blaha, Bouska, Brown, Byma, Cauthen, Chrojanoia, Cocek, Cunningham, Czyp, Dolezal, Drzewak, Dubcak, Elsik, Garcia, Gawenda, Geryk, Gonzales, Hlavaty, Horak, Horazdovska, Hromadka, Hubacek, Hurta, Jachym, Jack, Jakubik, Janek, Janota, Jedlicka, Jelinek, Jezek, Jung, Kolar, Kolinek, Kosar, Kostohryz, Kostris, Kottschmid, Koudelka, Kozelka, Kramolis, Kramoliss, Krizan, Krizanova, Kubik, Kudelka, Kudelkova, Kukralova, Lane, Lankert, Lesikar, Lesinir, Lomica, Marak, Marie, Martinek, Matkin, McClain, Mechurova, Melsch, Merenda, Michalec, Mikeska, Millan, Monsborth, Nasinec, Nedbakek, Nedbalek, Neisser, Nemecek, Obelgoenner, Obelgonner, Pagac, Palacky, Parrish, Pechauss, Pencova, Petrkovsky, Plasek, Prokess, Pytr, Riedel, Rostenberger, Rydel, Rydl, Rziczan, Sadols, Scerba, Schwabik, Sedlak, Sharka, Sisa, Skarka, Skrivanek, Slama, Smaistrla, Snitz, Soukup, Tamara, Toman, Tomek, Trubela, Tupa, Turek, Tusa, Ventrcek, Vergara, Vitek, Waniek, Wrba, Zapalac, Zubek, Zubicek, Zubik, Zurek

---

Current List of Towns and Villages of my Czeck Republic Anscestors:
Besice, Bludovice, Borovany, Dobrovnice, Doubravka, Drazic, Hodslavice, Hostalcova, Jasena, Karlov, Katernice, Kojetin, Krenovice, Lidecko, Ludkovice, Mirovice, Nemejice, Olasna, Pisecka Snolec, Podoli, Podolsko, Pozlovice, Praha, Prestenice, Rakov, Rastory, Ratibor, Ronovec, Stranic, Zadverice, Zilina, Zivortice.