---
---

If you arrived at this web site
without first viewing the main site,
Kostohryz - Rydel, Looking Back 400 Years,
click here to view that site: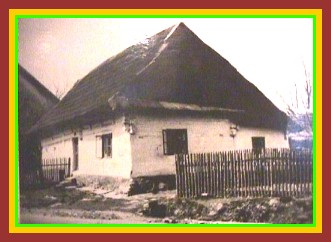 Looking for the old Homesteads
Trip to the Czech Republic
INTRODUCTION
This is a report of a trip made to the Czech Republic for the purpose of visiting the remains of the old home places of my family's Czech ancestors. We used as a guide to our search the information that we had gleaned and posted in:
Kostohryz - Rydel, Looking Back 400 Years: https://kostohryz.tripod.com/genealogy/history.html
Armed with house numbers which had been found in the old archives, we first tried to assert any new numbering system which might have been instigated over the years. Over the centuries, the homes have been altered or demolished. In the case of demolition, the old number on occasion might have been reassigned to a newly built home. There is room for error but we did our best.
Invariably the people we contacted along the way tried to help. There was an unmistaken silence in most of the rural villages caused by the lack of children. Most of the younger generation left for other opportunities in the larger cities. The elderly stayed behind. We were invited into homes to look around and take pictures. Little old ladies and public officials volunteered to get into our car to help find a difficult address. We trekked deep within woods to find the ruins of a castle of our ancestors. With the help of one man who remembered from his youth the remains of another of our ancestor's sites, we found the overgrown but flat earth on which the house had stood. Soon, that site will be gone from memory.
My wife, Mercedes, and my son, James, who served as driver accompanied me on this trip three.week trip in Septmber of 2003. Martin Pytr, a Czech genealogist and translator rounded out the team. Each and every day of the trip was packed with fun and great interest. So much transpired that I am putting this into writing before I forget and even before I have recovered from jet-lag.
Hopefully, anyone sharing our Czech ancestry or anyone planning a similar trip will find useful information here.
Vernon R. Kostohryz
https://kostohryz.tripod.com/genealogy/history.html This is my main family history site where you will find my current e-mail address through which you may feel free to contact me.
PICTURES AND COMMENTS ABOUT ANCESTRAL HOME SITES
I try not to get too carried away with pictures. I have included only those pictures for which I am fairly certain of accuracy. My first intention was to include town and church pictures as a minimum for each town visited. This idea was finally dropped in preference for a less complicated web site. Those pictures that are included will reveal much restoration and/or alteration on the old houses. Most towns of my ancestors were visited but only those towns are mentioned from which we have pictures of ancestral homes. Below are four separate links to the homesites of ancestors of my paternal Kostohryz and Janota lines, and to my maternal Rydel and Barton lines.
Click here for KOSTOHRYZ ancestral line homesites.
Surnames included are Kostohryz, Kolar, and Andel.
Villages included are Rastory, Podoli, Krenovice, Nemejice, Piseca Smolec, Borovany, and Dolni Krupa.
Click here for JANOTA ancestral line homesites.
Surnames included are Janota, Sisa, Swabik, and Mikeska.
Villages included are Katernice and Zadverice.
Click here for RYDEL ancestral line homesites.
Surnames included are Rydel, Palacky, Krizan, Riedel, Toman, and Adam.
Villages included are Hodslavice.
Click here for BARTON ancestral line homesites.
Surnames included are Barton and Palacky
Villages included are Hodslavice.
Click here to view MISCELLANEOUS other Czech Republic trip pictures.
---

TIPS FOR YOUR OWN TRIP
---If you don't already speak Czech try to learn some before the trip. I liked the Pimsleur Language Program. There are ten lessons on five cassettes. I probably went through the tapes twenty times and learned them well but even before arriving in the Czech Republic, I knew that the vocabulary needed to be supplemented. Take along a pocket dictionary. Even better, hire a translator if you can afford it.
---If you don't have the information, hire a Czech researcher to do your family tree before leaving. Do this now before prices go up. It might be cheaper and quicker than you think. If his rates are reasonable, take him along as guide and translator. Remember that the modern house numbers might or might not be the same as the older ones. Have these verified before or along the way. Municipal boundaries also change, so the name of the village might even be different. The smaller local municipalities are usually very helpful with their records. One village mayor who helped us also appeared to be the city plumber. In another case we stopped to ask directions from a man cutting weeds along the road. He turned out to be the mayor who also was a big help. On occasion, municipal workers took us to addresses and introduced us to other people.
---Obtain and read a good travel guide book. Heed their advice about pickpockets and dishonest cab drivers but we had no bad experience with either. Then again, we never took a cab and were careful in crowds. Before the trip, I expected many discomforts in food and lodging. These were misconceptions because the food was excellent and the lodging was more than adequate. Public bathrooms were usually immaculate. The local people with whom we had contact with were extremely honest.
---To help with budgeting your trip, I offer the following:
We stayed in a three star hotel while in Prague. A double room cost about $100 US dollars. If you have a car, reserve parking when you reserve the room. They might have only a few spaces. In the smaller cities, better accommodations can be found for half the price of Prague hotels. So head for the hills as soon as you can break yourself away from Prague. Three full days in Prague might be enough if you are pressed for time and/or money. Vienna in Austria is close, so you might consider a couple of full days there. You will find that there are many great castles to visit throughout the Czech Republic.
You can eat a good meal without drinks in Prague for $7 US dollars, and cheaper in the smaller cities. Breakfast is usually free in the hotels. My only gripe is the price of water. A small glass of water can cost between $ .75 and $2.75. If you want water without gas (non-carbonated) ask for voda neperliva.
Don't forget to budget for tours and entrance fees. Don't feel alone if you feel that the entrance fees at the Prague Jewish museums are exorbitant. So, ascertain the prices before plunking down the money or you might soon find yourself over your budget.
Vernon R. Kostohryz

Click here to return to Kostohryz - Rydel, Looking Back 400 Years

---
---